Teitl cyflogwr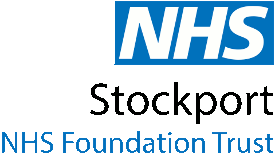 Cyfeiriad

Stepping Hill Hospital
Poplar Grove
Stockport
Cheshire
SK2 7JE

Rhif ffôn

0161 483 1010

Gwefan
Stockport NHS Foundation Trust
Stockport NHS Foundation Trust provides hospital services for children and adults across Stockport and the High Peak, as well as community health services for Stockport, Tameside and Glossop. Stepping Hill Hospital treats over 500,000 patients per year and community health services are run across 24 sites in Stockport and 17 sites in Tameside and Glossop.
There are lots of good reasons to choose to come and work at Stockport NHS Foundation Trust. A dynamic integrated Trust with integrity and vision. Exactly the same qualities you'll see in yourself.
Stockport NHS Foundation Trust aims to be the organisation of choice for patients and an employer of choice for staff. In order to continually improve all aspects of our patient experience, we rely upon having a highly skilled, motivated, diverse, productive and patient focussed workforce.
We are constantly improving how we work with staff and this is reflected in the awards we have been awarded, which can be viewed on our website.
Our overall staff engagement score, a measure of how staff feel they are treated, has improved year on year, together with top Care Quality Commission rankings – one of the best hospitals in the country.
Stockport NHS Foundation Trust is committed to helping staff to balance the demands of both their work and personal needs through flexible working arrangements, wherever reasonably practicable and subject to service needs. Many of our employees work flexibly in many different ways, including part-time, flexible hours, job share, an element of working from home or compressed hours.  Please talk to us at interview about the flexibility you may need.
Our values are at the heart of everything we do and come from our 'We Care, We Respect, We Listen.' Promise. Every day they drive the behaviour and actions for every person in our organisation.
The Trust is committed to safeguarding and promoting the welfare of children, young people and vulnerable adults and expects all staff and volunteers to share this commitment and promote safeguarding by implementing the Trust's policies and procedures, acting promptly on concerns, communicating effectively and sharing information appropriately.
In your application for this post, please describe how your experience and skills align with 'Our values-based behaviours' ( see additional documentation) and provide examples.
Greater Manchester Continuous Service Commitment
As well as recognising previous NHS service, Stockport NHS Foundation Trust is a member of the Greater Manchester Continuous Service Commitment. If you are currently employed by Greater Manchester Local Authority, Combined Authority, GMFRS, TfGM as well as other public service organisations, Stockport NHS Foundation Trust will recognise your previous service for sickness and maternity/paternity/adoption entitlement and also for annual leave purposes (providing there has been no break in service).  If you currently work for one of the above organisations and successfully apply for a post with Stockport NHS Foundation Trust, please ensure the Recruitment team are aware so that this service is reflected in your contract of employment.
Our Values:
We Care
About each other
Our patients and their families
The communities we serve
The environment
We support them and deliver on their promises
We Respect
Each other
Our patients and their families
Our partners
We are kind and helpful, and we expect the same in return
We Listen to
Each other
Our patients and their families
Our partners
We act and learn from what we hear
Rhestr swyddi gyda Stockport NHS Foundation Trust yn Nyrsio a bydwreigiaeth, Meddygol a deintyddol, Proffesiynau perthynol i iechyd, Gwasanaethau gwyddor iechyd, Gwasanaethau cymorth, Gwasanaethau gweinyddol neu bob sector